Approximately one to two weeks after your shoot you will receive an email from Reproductions. They will be hosting your images online. I will select 400-500 of the best shots to post online. You will be able to create a favorites folder, see them in color and black and white, email them to friends and agents, and add them to your Facebook page. Additionally, you can have Maurice at Reproductions (646 502-3721) burn you a DVD or send a digital file transfer of all the high resolution images for $25 or $15, respectively.  I suggest purchasing the DVD or file transfer, since I can't guarantee that I will hold onto all of the images indefinitely.

NEW SERVICE- If you chose to have me select my Favorites (additional charge), please make sure to tell me before the proofs have been delivered. I will select my favorite images from your session and the images will be noted as such on the Reproductions gallery.
*If you haven't received your headshots after two weeks, please check your SPAM folder. If you have a gmail account, you should add uploads@reproductions.com to your Contacts list, otherwise it will be blocked as SPAM.
After you have reviewed all your photos and selected the final image(s) you would like to have printed, the next step is to have your final selection retouched.  We are pleased to offer professional retouching.  For all of your retouching needs, simply reach out to my office manager via email, who will connect you with our retoucher.  The retoucher is very thorough, and won't retouch unnecessarily, but it's a great idea to have him look it over.  He can fix hair concerns, distracting elements in background, opening your eyes if they squint when you smile, etc.  He will send you both a low and high resolution version of your retouched image, for online and print use, respectively.  Retouches can be ordered online via the 'Rates' page.
A brief word about image quality when reviewing images on the web: every monitor has a different color and contrast balance, and web colors are different from print colors. So the images might look slightly too dark, too light, too yellow or blue, etc. Don't worry about that. Only consider your facial expression and the composition of the photograph (background, cropping, angle and clothing) when making a decision. Reproductions will color correct the image you choose for the best balance of color and contrast. Just use your computer to review the images, but don't worry about the quality of the color and contrast.
Enjoy your photographs. Please send copies of your reproductions to-

JM
200 Pinehurst Ave, #3A 
New York, NY  10033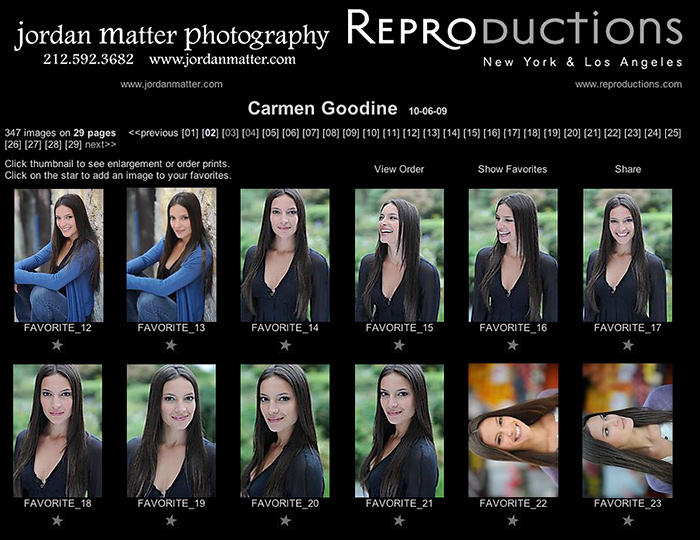 Sample page of proof sheets. Video footage of this session can be seen in the See A Shoot section.