Approximately one to two weeks after your shoot you will receive an email from Reproductions. They will be hosting your images online. I will select 300-400 of the best shots to post online. You will be able to create a favorites folder, see them in color and black and white, email them to friends and agents, and add them to your Facebook page. Additionally, you can have Maurice at Reproductions (646 502-3721) burn you a high resolution DVD of all the images for $25.  I suggest purchasing the DVD, since I can't guarantee that I will hold onto all of the images indefinitely.

NEW SERVICE- If you chose to have me select my favorites (additional charge), please make sure to tell me before the proofs have been delivered. I will select my favorite images from your session and upload them to your own private page on my website. The layout will be very similar to a Facebook gallery. Each image will have a comments section, "like this", "share this", etc. You can email the link to personal and professional contacts and keep track of their comments. And you can enlarge each image for easy viewing. Basically, I've created a higher quality Facebook gallery for you, which you can link to from your Facebook wall. Click here for a sample gallery. A few days later, you will receive your full set of proof sheets from Reproductions. 
*If you haven't received your headshots after a week, check your SPAM folder. If you have a gmail account, you should add uploads@reproductions.com to your Contacts list, otherwise it will be blocked as SPAM.
You should make an appointment with Joe Barna for retouching before ordering reproductions. He can be found at Colorworks, 55 West 39th Street, Suite 706 (between 5th and 6th Avenues), (212) 382-2825. He will make suggestions for retouching if necessary. He's very thorough, and he won't retouch unnecessarily, but it's a great idea to have him look it over. He can help fix hair concerns, distracting elements in background, opening your eyes if they squint when you smile, etc. He can do everything via email if necessary. He will give you a CD with your retouched image in black and white and in color.
Once you have the retouched image, take the CD to Reproductions, 630 Ninth Avenue (between 44th and 45th Streets), Suite 1410, and they will guide you through the reproduction process. They're open M-F, 9am-6pm. Their phone number is (646) 502-3700, ext. 0. Their rates can be found online at reproductions.com. I suggest choosing the MasterPhoto option. If you live out of NYC, Joe Barna and Reproductions can easily work with you online. Here's how the online ordering process works- once you complete your retouching with Joe Barna, he can pass your retouched images to Reproductions. The online ordering system at reproductions.com is easy to use and will walk you through the ordering process. While you are ordering – remember to mention that Joe retouched your image so they will know to grab it from his folder on their FTP. Or if you prefer, just give them a call and they'll take you through the process.
A brief word about image quality when reviewing images on the web: every monitor has a different color and contrast balance, and web colors are different from print colors. So the images might look slightly too dark, too light, too yellow or blue, etc. Don't worry about that. Only consider your facial expression and the composition of the photograph (background, cropping, angle and clothing) when making a decision. Reproductions will color correct the image you choose for the best balance of color and contrast. Just use your computer to review the images, but don't worry about the quality of the color and contrast.
Enjoy your photographs. Please send copies of your reproductions to-

JM
200 Pinehurst Ave, #3A 
New York, NY  10033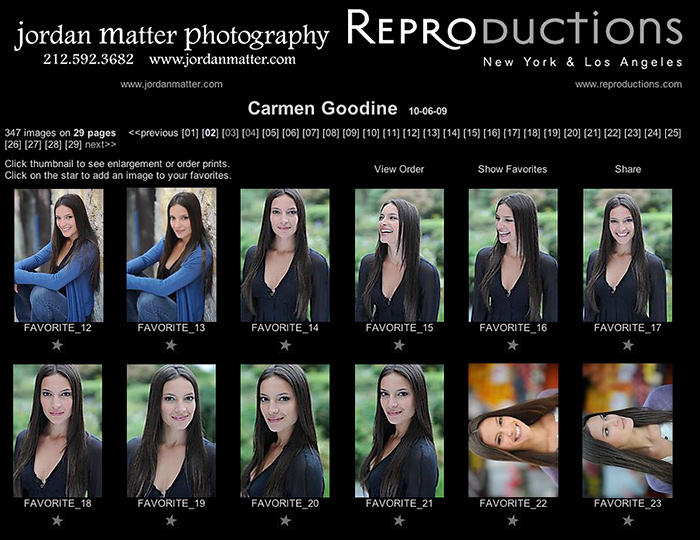 Sample page of proof sheets. Video footage of this session can be seen in the See A Shoot section.