Clothing and Preparation for Headshots
Here are some suggestions to help you prepare for our headshot session (underlined words are links to examples):

When considering clothing options, texture can be terrific. Avoid baggy clothes. Avoid bright patterns. Your clothes should fit well so you don't appear boxy. Dark colors (deep red, blue, green and black) usually work the best, but sometimes bright colors can be amazing. Choose colors that bring out your eyes (if you have blue eyes, look for nice grey/blue shirts as well as pure blue). Generally, keep the shirts darker than your skin tone (though white and cream tones, especially for women, can be gorgeous). Bring eight to ten tops, though we won't use that many. Also, bring a variety of necklines.

For men, layering is wonderful- a blazer and collar shirt, for example, or a t-shirt and light fall jacket. Also, thermals, crew necks and v-necks are fantastic! For women, layering can work as well, but it's usually a good idea to keep it simple. Sheer material is very nice, and spaghetti strap tank tops, scoop necks and v-necks are wonderful. Make sure to keep your neckline open. By the way, any of these rules can be broken to great effect. Bring whatever makes you feel attractive, even if it is contradicting everything I just wrote. Sometimes, you can even wear nothing!

Bring a comfortable pair of shoes for walking, and one pair of well-fitting pants (jeans usually work). Women, if you like the way you feel in heels, have a pair handy. If it's cold, bring a warm jacket and gloves. Also, I have an IPOD Dock Station, so bring your IPOD along if you have one and you can listen to your own music while we're in my studio. Otherwise, I have a nice selection of everything your parents would love. Arrive with your hair as close to audition ready as possible, and the makeup artist will help you with grooming and maintenance. Make sure to get some rest the night before, and don't get into a fight with your partner. Just be moderately rested and in a good mood, and I'll take care of everything else. 

If you're shooting a comp card, we will discuss your specific looks a week or two before the session. As you begin considering different looks, take a look at my comp card section for suggestions and examples. Remember, leave the tags on if you buy items for the shoot- you can return everything. To be safe, purchase clothes from the same department on different receipts.

If you're working with an agent, manager, publicist or casting director, please discuss specifics with them before the shoot. Make sure you know what they need from the session. Have them be as specific as possible. 

If you need a haircut, I highly recommend Breanna at Thomas Taft Salon- 212.879.1706. Make sure to give yourself a week or so to get comfortable with your haircut before we shoot.

This may sound like a crazy suggestion, and I really can't believe I'm writing it, but it might be helpful to watch America's Next Top Model. Some version of this exchange has happened to me countless times: I say, "Wow, you're really great in front of the camera." To which they respond,  "I'm smiling with my eyes, just like Tyra says." Her trademark Smize (smile-with-your-eyes) seems to be a very effective. Plus, it's actually a pretty fun show- my wife got me hooked one season (like any self-respecting man, I blame it on my wife). 

Finally, make sure to arrive on time. The time allotted begins when the session is scheduled to start. Since I'm pretty far uptown, allow for extra travel time. Keep your schedule flexible for our shoot, and I will call you the day before to set the time.

To secure your session, please send a $300 deposit to-

Jordan Matter Photography
200 Pinehurst Avenue, Apt. 3A
New York, NY  10033

Click here if you'd prefer to use a credit card for your deposit.

Thank you. See you soon!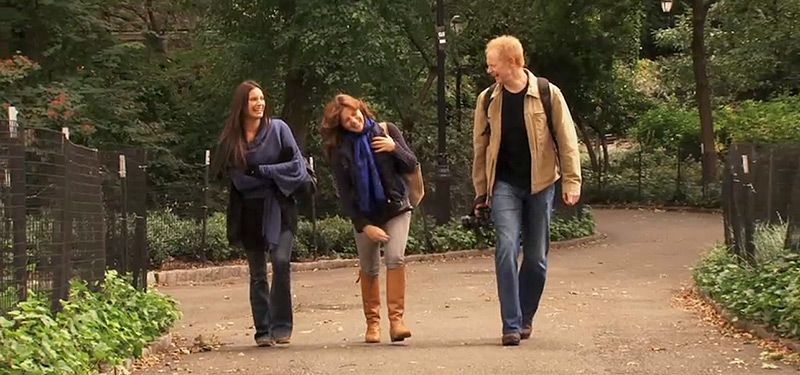 Video still from "See A Shoot"- Carmen, Ivy and Jordan in Ft. Tryon Park