Studio Directions
PLEASE PRINT THESE DIRECTIONS AND BRING THEM WITH YOU:
Subway Directions
My studio is right next to the Cloisters Museum in northern Manhattan, and most of my work is done in the area. If you haven't seen it before, you're in for a treat. I think it's the most beautiful area in NYC. To arrive by subway, you need to take the A train uptown. To get specific directions to the A train, along with estimated travel time and scheduled delays, click this link to Google Maps.
Sit in the front of the A train. Get off at 190th Street (5 stops and 20 minutes from Columbus Circle). Exit through the turnstiles, then TAKE THE ELEVATOR ON THE RIGHT! Turn left onto Ft. Washington, then a right on 187th. Turn left onto Pinehurst Avenue. 200 Pinehurst (Tryon Towers) will be on your right. Buzzer 3A. My studio is on the third floor, #3A.
Driving Directions
For the most specific driving directions from your area, go to Google Maps. Here are directions from downtown:
West side: Take the West Side Highway north to the GW Bridge exit. Follow signs for 178th Street. Go through the light. Take a left on Broadway, a left on 179th Street, and a right on Fort Washington Ave. Then follow the directions below (after the east side directions)-
East side: Take the FDR north to the GW Bridge exit. Follow the exit as if you're going over the bridge, but STAY RIGHT when the exit forks. That's very important. If you don't stay right, you will end up in New Jersey (insert your favorite Jersey joke here). Follow signs for 181st Street (last exit in Manhattan). Stay right off the exit and take a right at the light. Take a left on Fort Washington Ave.
Stay on Ft. Washington to 187th Street and take a left. Take your first left on Pinehurst. The studio will be on your right, across from the coffee shop Café Buunni (great coffee shop, by the way. Be sure to stop in for a coffee before your shoot). The address is 200 Pinehurst (called Tryon Towers). Buzz 3A, and the studio is on the third floor. This will take you 30 minutes from mid-town with no traffic. A cab should cost about $25. Make sure to keep an eye on the cab driver- he might have no idea where he's going.
Airplane Directions
Laguardia Airport is the closest. However, for an extra surcharge you can use my roof deck as a private landing strip, but only if Sully Sullenberger is the pilot. Inquire for scheduling specifics.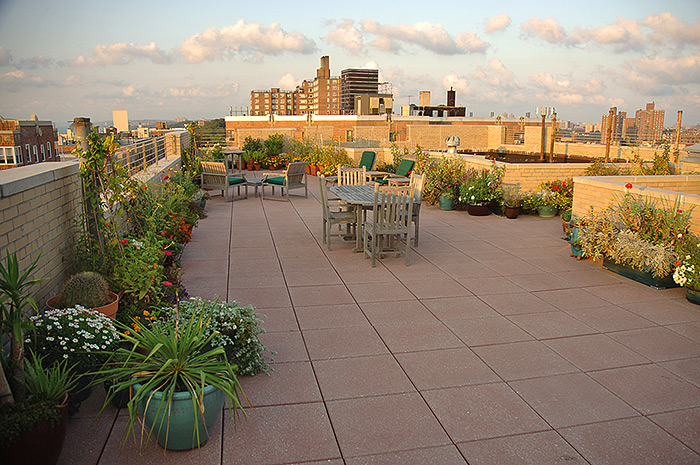 My roof deck overlooking the Hudson River