How I Work

Though plenty of NYC wedding photographers advertise a candid and spontaneous approach, I doubt many enjoy it as much as I do. I love the process of storytelling through photographs, and wedding photography offers me a perfect opportunity to tell a memorable and intimate story. I'm especially fond of location weddings. My wife and I were married at Dalvey by the Sea in Prince Edward Island, Canada (I recommend it highly if you're still looking for an amazing spot). So I have very personal experience planning a destination wedding, and a soft spot for any photography request that involves travel to beautiful places.

Photographing a wedding is an awesome responsibility, and it shouldn't be taken lightly. The captured moments will be forever yours- you will look through these photos for the rest of your lives, and pass them down to future generations. It's critical that it be done well. I only agree to shoot 5-10 weddings a year, so I avoid potential burn out- I want to be inspired by the romance of the day. I know many wedding photographers who are simply tired of weddings. They may be quite good technically, but they go on autopilot and often miss the spontaneous moments they weren't expecting.

Wedding photographs are used for two main purposes- wedding albums and "wall shots" (the few images you will hang on your wall). The album comes from telling the entire story, from start to finish. The wall shot comes from capturing two or three beautiful moments. The photographer should be aware of both purposes simultaneously.

Here is a brief summary of the various responsibilities you're entrusting to the photographer on your wedding day. The photos of Celeste and Pierre were taken in South Hampton, NY.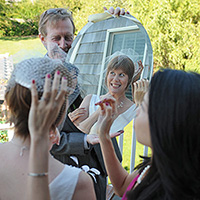 Getting ready
The photographer must play two roles, from a fly on the wall to actively choreographing the situations. When you're having hair and makeup, or laughing with your bridesmaids, you don't need to know I exist. But when you put on your dress and veil, I will control the setting if necessary to shoot you in the most flattering way possible. Just because your dress is hanging in the bedroom doesn't mean it has to stay there, if another room is more photogenic. A good wedding photographer knows when to step out of the shadows. Before I took this photo, the mirror and the porch weren't part of the plan. Nor was her father's participation, for that matter.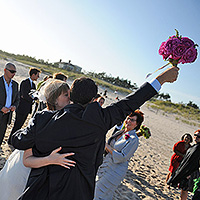 Ceremony
This is the single most challenging part of the day for a photographer. There are many important moments in quick succession, with no second chances. I'm usually working under restrictive conditions while trying to be completely invisible. It's necessary to cover the ceremony intimately, with tight close-ups revealing everyone's emotions, and also from a distance, to get perspective. So I do a lot of tiptoeing around to quietly cover all angles. I took this shot a few minutes after the ceremony, when photographers are often setting up the formals. But if you hang around, you never know what might happen.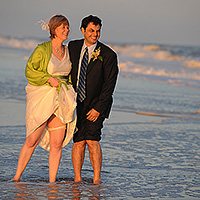 Formals
Here is where the photographer needs to step out of the background and take charge. Formals are never desired but always necessary. Often the bride and groom will approach formals with an understandable impatience. You've just made a vow to spend your lives together, and five minutes later the photographer is screaming, "Okay everyone, let's have a nice big smile! Mom, lift your chin up. Dad, stop squinting. Wait, where's the bouquet? Someone fix the veil. Okay, hold it, hold it- one, two, three… Cheese!" It's pretty difficult to be natural in that situation, and it can feel like a bit of a letdown. So I believe in a much more organic and less "formal" approach to formals. My main job is to help you laugh and smile spontaneously, so the formals look more like candids. Why hire a photojournalist to take staged photos?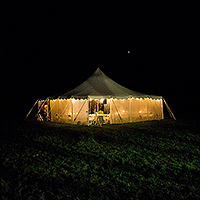 Reception
There is a lot to cover during the reception- dancing, drinking, speeches, cake cutting, more dancing, lots more drinking, garter, bouquet, table shots, details and exteriors. This requires an amazing amount of energy. It also requires knowledge of photo technique. The lighting conditions are constantly changing during the reception, and the photographer needs to seamlessly adapt along with it. There is also the temptation to have divided attention. Up to this point the focus has been pretty set. But now, anything can be happening anywhere, and it's essential the photographer doesn't lose focus. Once again, it's important for the photographer to take charge from time to time. If I see beautiful light outside, I might borrow you for a few minutes to take some portraits. But my primary responsibility is to capture the mood of the evening.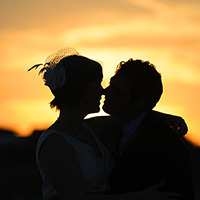 Goodnight
To complete the story, and the wedding album, your photographer should be thinking of the final image. In this case, it was taken after the ceremony. We decided on the time for the ceremony together, so the light would last just long enough to shoot the formals before it got dark. That way, the afternoon sun would also illuminate the ceremony. I had this shot in mind once I met them. Celeste was pregnant, and the wedding felt like the end of one phase of their lives, and the beginning of another. The setting sun represented that transition to me.